HOW IS FLIPSI DIFFERENT FROM OTHER BABY BOTTLES?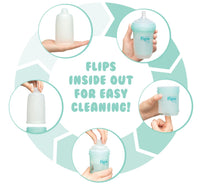 So Easy to Clean!
Never worry about mold buildup in hard-to-reach crevices. Silicone base flips inside-out for easy cleaning and drying:
- Wash by hand (no bottle brush required)
- Dishwasher friendly
- Microwave friendly
- Freezer friendly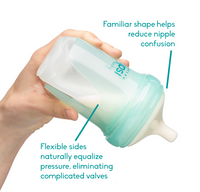 The Best Breast-To-Bottle Solution
Familiar nipple shape helps reduce nipple confusion and eases the transition from breast to baby bottle. Flexible sides naturally equalize pressure, eliminating complicated valves and minimizing milk oxidation.
More Info: Milk Oxidation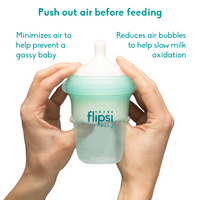 Unique Colic Reducing Design
Feed your baby in any position! Flipsi's unique silicone interior design allows you to squeeze all the air out - minimizing your baby's gas/air intake, thus reducing colic (and burping). This also minimizes the surface to further prevent milk oxidation
More Info: Milk Oxidation
Testimonials
This is the first bottle my grandson would suck! He's exclusively breastfed so when Grammy wants to spend time with him,we had to limit it to 2 mom free hours. Now, mom can get away for a few extra hours because this bottle is baby approved! It may be because it doesn't have to be tipped up for him to drink. He can be at a more natural angle when drinking.

Lisa (Amazon Customer)
We were having trouble getting our breastfed baby to take bottles. The brand that we used for our other two kids she was having trouble latching onto and milk was leaking out of the side of her mouth. We ordered the Flipsi bottle and she latched on quickly with no leakage the whole time! We are very happy with our experience. In addition they are super easy to clean and very durable. With the silicone insert be sure you push out all the air like they tell you to do in the description - this ensures baby does not take in too much air, again a great benefit of the bottle. Other bottles come with multiple parts for this one added benefit. I would recommend this to all other moms. Overall a great experience!!!!!

Amazon Customer
I am shocked and amazed. My daughter is 8 months old, and we have had such a hard time getting her to take a bottle. I'm stay-at-home Mom so luckily I've been able to nurse her, but Mama needs a break sometimes! I literally tried about 7 different bottles, and different nipples too....I was amazed when my daughter immediately latched on to it, and proceeded to drink 5 ounces. Happy, happy day!

Amazon Customer
I bought this bottle for my sister and my new God Son. I was not aware of all the choices in picking a bottle for a newborn! She tried the bottle and my little man took an immediate liking. Apparently, the cup nipples are the most realistic she has come across. In additional, he is sleeping better and longer (she used some fancy words to describe). Upon hearing her feedback, I immediately ordered 6 more bottles for friends blessed with newborns themselves.

Amazon Customer
What a great product! Whomever came up with this idea is a genius. Not only are these super easy to clean and less parts to lose but they really help out with our sons reflux. Our son is predominantly breastfeed and there is no nipple confusion. He latches very well, as shown by the compressed bottle picture attached. I wish these were around with our first. Highly satisfied with our purchase and definitely recommend these over he others available on the market. We've tried Dr. Browns and Avent (regular and natural) and none of them reduce gas/reflux like the Flipsi.

Amy (Amazon Customer)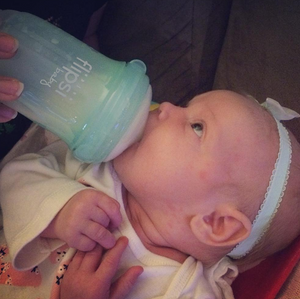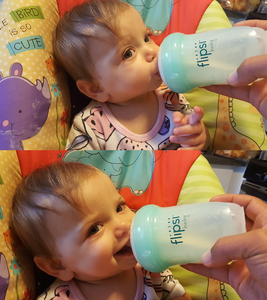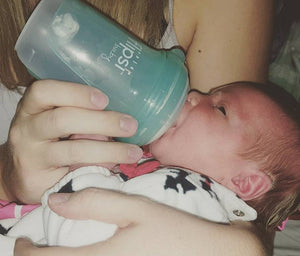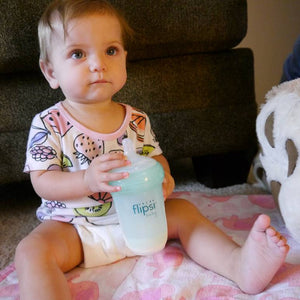 Proud Supporters of